Our Partials Are Beautiful & A Great Value
We work closely with our dentists to ensure that the acrylic or Valplast partial we create is one that the patient can feel confident wearing. Artistry plays a big part in creating a superior partial that will not only fit the mouth comfortably and stay in place, but also blend naturally with the existing teeth. Our customized design incorporates the information you provide us regarding your patient's features. At times, our dentists will send us a photograph obtained from their patient, that depicts the smile they once had, prior to the tooth loss.
We welcome you to send anything that will inform us of your patient's specific preferences. This can help guide our design. The end result is a finished product that fits superbly and achieves the natural restored smile that your patient desires.
Acrylic Partial Dentures: These relatively inexpensive partial dentures serve as a temporary tooth replacement and space maintainer as your patient heals from tooth extraction. A transition partial often precedes the placement of dental implants. However, for some patients that are not able to have implants placed, the superior quality acrylic partial from Mike's Superior Dental Lab is an economical solution that they choose to wear permanently.
Flexible Partials: Flexible partials can be a headache to deliver if you entrust the wrong lab to create them. Mike's Superior Dental Laboratory is a platinum certified Valplast® laboratory. This means that we have received comprehensive, hands-on training at the Valplast training center in New York. Our lab has met the rigorous professional standards and has demonstrated that our Valplast flexible products are exceptional in design and aesthetics.
About Valplast®: Valplast is a thermoplastic nylon material used to create flexible partials. It is monomer-free and metal-free, making it an excellent choice for patients with allergic reactions to acrylic or metal materials. The Valplast resin is lightweight, flexible and exceptionally strong. This material renders a natural appliance which fits snuggly in the patient's mouth.
Related Articles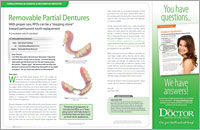 Removable Partial Dentures
When weighing options for replacing missing teeth, removable partial dentures are best thought of as transitional appliances. Still, a well-constructed, accurately fitting, thin metal-based removable partial denture can provide a wonderful aesthetic and functional service...
Read Article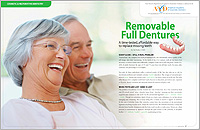 Removable Full Dentures Complete tooth loss can cause a host of health problems, including malnutrition and bone loss. Though fixed bridgework may hold a higher place of reverence when it comes to replacing an entire set of teeth, removable full dentures can provide an elegant solution that is significantly more affordable... Read Article